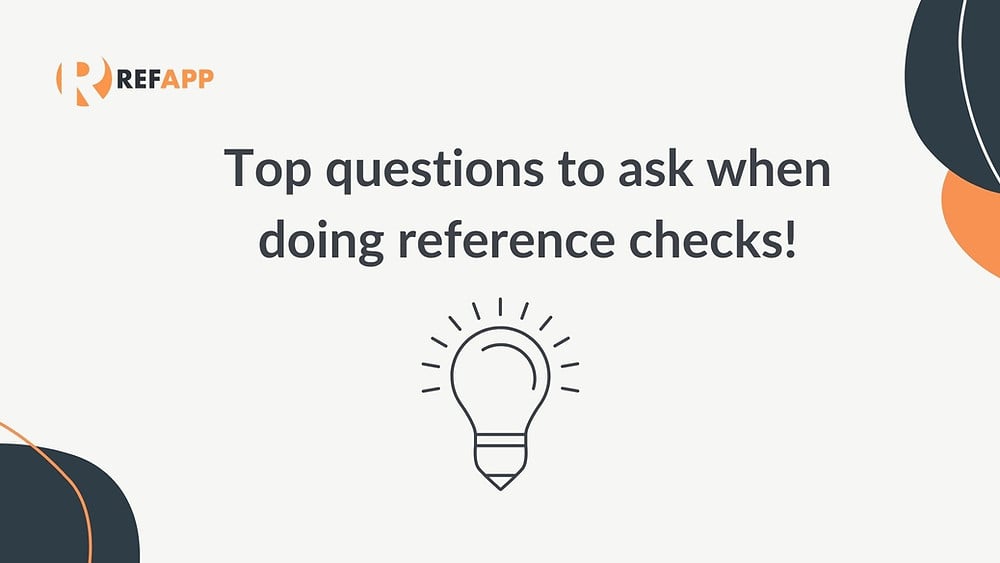 Reference checking occurs in most recruitment processes, but perhaps not always with a clear idea about why it is done and what to ask. If we don't have a clear picture of what we want to get out of the reference checking we risk posing questions that are not relevant or don't provide sufficient information about the candidate. So, what is the value we can extract from a well-executed and thought-through reference checking, and what questions should we ask in order to achieve that?
In collaboration with Anders Sjöberg, Ph.D. at the University of Stockholm, we found out what the science says. You can read more about that in detail in our whitepaper.
A really good reference check helps you to…
Find out more about questions you did not get satisfying answers from during the interview process

Verify candidate background, employment history, and education

Get additional information about the candidate´s personality and characteristics

Get an external perspective on the candidate's performance, capacity, and potential

Extract valuable information in order to design a better onboarding when the candidate is about to start in the organization
Here's a set of questions you can pick and choose from to match the job profile and the candidate. Try to reduce the number of questions in the reference checking and use rating scale questions and multiple-choice questions to a great extent. With a few, relevant and qualitative questions together with rating scale questions and multiple-choice, you're not only getting more relevant and valuable information, but you also get in a structured way which means reducing the risk for bias, and it's easier to compare candidates with each other to make as fair a judgment as possible, which is what we're looking for.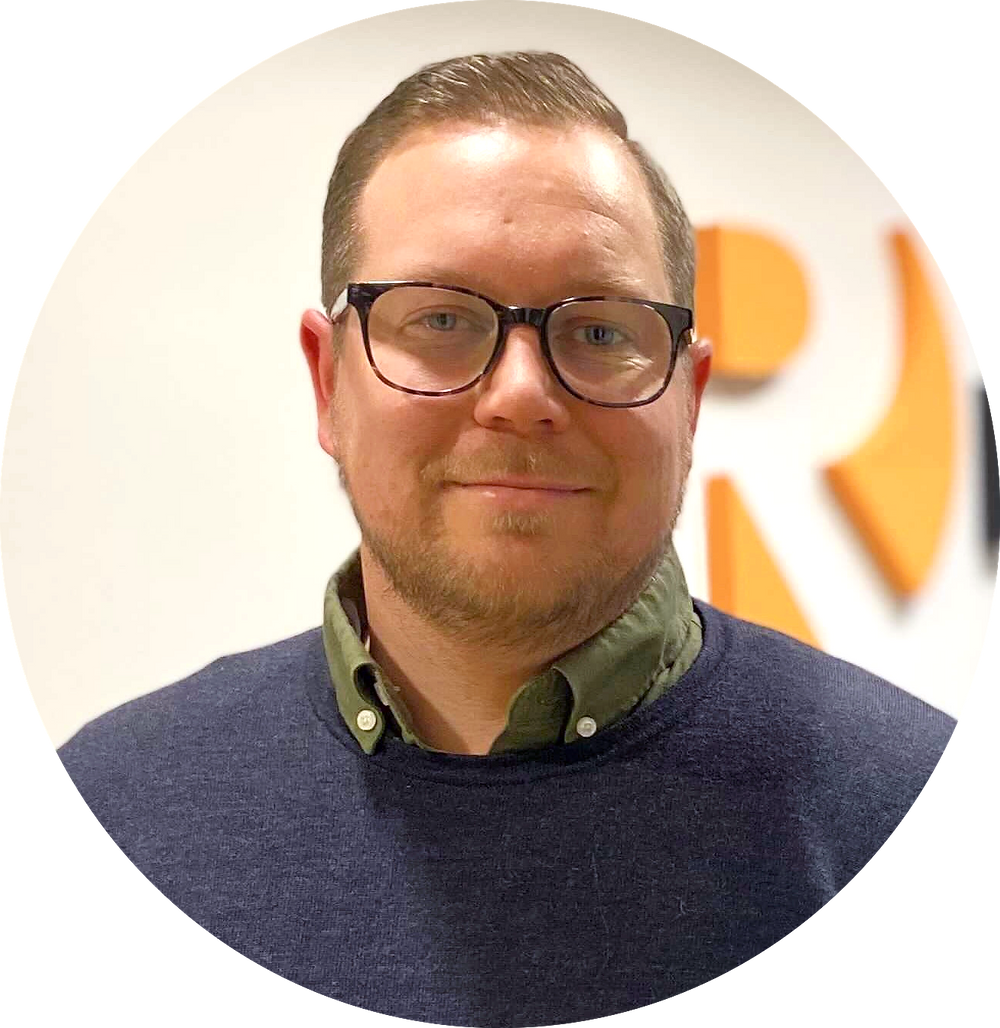 Categories of questions to ask in a reference check
Questions to verify the background of the candidate
What is your professional relationship with Hanna?

When did you have a professional relationship?

How long did your relationship last?

Did you socialize outside of work?

Can you give a short description of the tasks Hanna performed and the responsibilities she had whilst working with you?
Questions to learn about the candidate's formal and personal competencies
Questions in reference checks to get information about the candidate´s formal and personal competencies and skills should always be aligned with the preferred and sought-after competencies specified in the job profile earlier in the recruitment process. This means the questions vary for each and every recruitment and role. Here are a few examples:
What would you say are Hanna's main three strengths?

What would say are Hanna's three main areas of improvement?

Which tasks did Hanna enjoy the most in her work?

Could you give an example of something positive that stood out or some success that Hanna achieved in her work?

Could you give an example of how Hanna solved or handled a challenging task or situation?

Which tasks would you not ask Hanna to perform?
Refapp is collaborating with many providers within the competence framework domain, one of which is HOME of Recruitments , and here comes some examples of competency-based rating scale questions from their framework.
How do you rate Hanna's competency: Structured?
Definition Structured: works according to a clear process, organizes and plans his/her work well, finishes what has been started, and keeps
How do you rate Hanna's competency: Goal-orientated?
Definition Goal-orientated: sets high goals for him/herself and works hard and persistently to achieve those goals, does what is required to achieve a satisfactory result
How do you rate Hanna's competency: Works well under pressure?
Definition Works well under pressure: deals with stress in a constructive way, maintains his/her good humor despite pressure and setbacks
How do you rate Hanna's competency: Confident?
Definition Confident: is secure and stable in uncertain situations, sticks up for his/her own views, has the courage to speak up, and the ability to make a distinction between the person and the matter at hand
How do you rate Hanna's competency: Inventive?
Definition Inventive: thinks outside the box, thinks in new ways, and finds new solutions to existing problems
How do you rate Hanna's competency: Eager to learn?
Definition Eager to learn: keeps up-to-date in his/her profession and his/her expert field, monitors the world around him/her, and observes trends
How do you rate Hanna's competency: Good at forming relationships?
Definition Good at forming relationships: takes the initiative in social situations, steps forward, and finds it easy to form new relationships
How do you rate Hanna's competency: Persuasive?
Definition Persuasive: finds it easy to argue his/her case, win the respect of others, put forward arguments, and be listened to
How do you rate Hanna's competency: Considerate?
Definition Considerate: finds it easy to put him/herself in another person's situation, listens, understands, and shows consideration
How do you rate Hanna's competency: Cooperation-orientated?
Definition Cooperation-orientated: adapts and finds win-win solutions by being a team player and focusing on common goals
How do you rate Hanna's competency: Solution-orientated?
Definition Solution-orientated: ability to quickly find solutions to problems that arise
How do you rate Hanna's competency: Analytical?
Definition Analytical: the ability to solve problems without losing sight of long-term strategies, to see logic and connections in complex situations or environments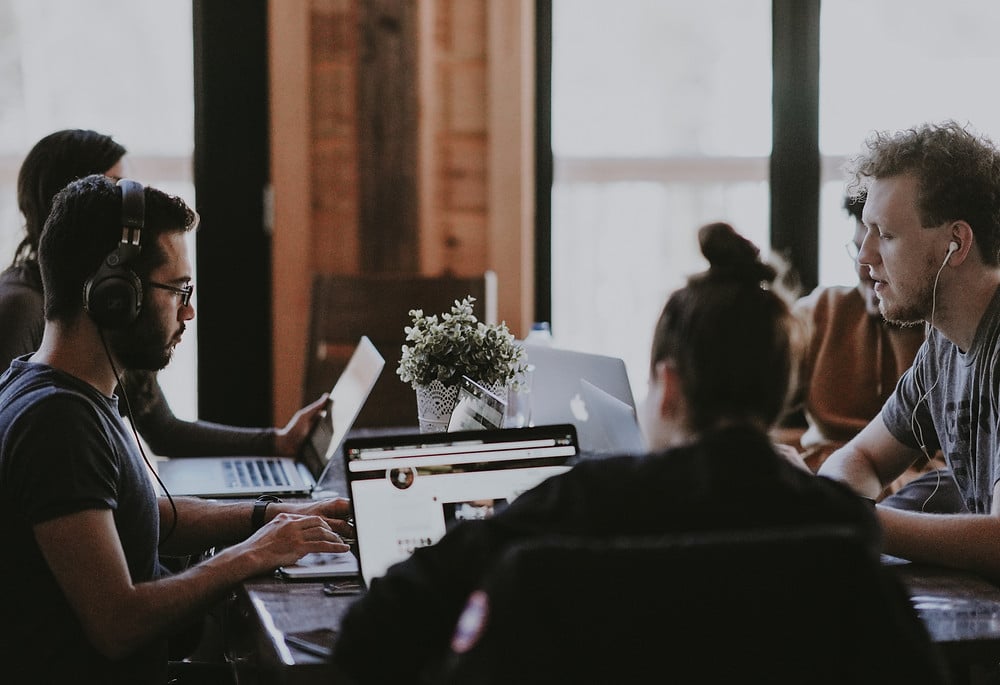 Questions about contra-productive behaviour
Is there anything you wish to remark about sick leave, punctuality, clothing, abuse?

Did Hanna consciously destroy or withhold sensitive information at work?

How do rate Hanna's punctuality and ability to operate with deadlines and set timeframes?
Questions to get information that can work as a basis for planning the on-boarding
Which recommendations would you give to Hanna's next manager?

What motivates Hanna?

What do you think demotivates Hanna?

Which kind of tasks would you not ask Hanna to perform?

Under what kind of leadership does Hanna perform the best?

Do you know why Hanna wants to leave (or have left) the company?
Questions about the reference's wish to work together with the candidate again and evaluate the candidate´s performance
If you had the opportunity, would you hire or recommend hiring Hanna again?

If you had the opportunity, would you want to work with Hanna again?

How would you rate Hanna's performance in relation to others who did similar work?
Other tips and tricks when you're formulating your reference checking questions
Use graded and multi-choice questions as much as possible. Science shows that mechanical interpretation of answers has higher validity than subjective interpretation. Rating scale questions also enable easier comparison between the references for the different candidates which ultimately makes better recruitment decisions.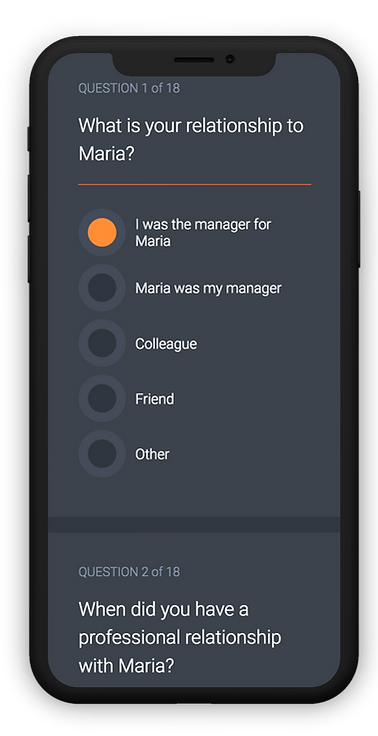 Choose your questions carefully and aim for as few, but relevant, questions as possible.

Always define the competencies you're trying to learn more about by asking questions in order for you and the reference to have the same understanding of it.

Rating scale questions are particularly good in digital reference checking, but also do a good job in normal reference checking in a conversation. If you're conducting the reference check over the phone, or in another type of conversation, try to phrase it in a similar way as you would in writing.
We hope you found this information useful and we want to wish you good luck with your reference checking! Do you have any questions regarding digital reference checking with Refapp? If so, do not hesitate to contact us and we will be happy to assist you in any way!