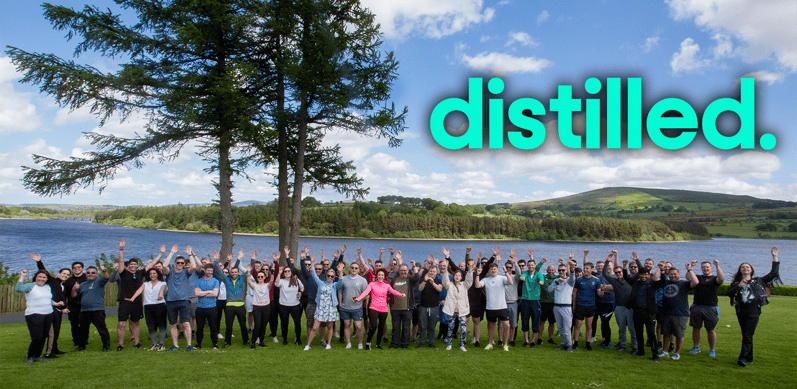 Jamie Miranda, Talent Acquisition Partner at Distilled, tells us about his positive experience using Refapp. Distilled is a technology company that owns and operates four of Ireland's most popular internet brands, Adverts.ie, Daft.ie, DoneDeal.ie and Gumtree.ie. They have also been recognised as the #1 Best Workplace in Ireland for 2023, an achievement to be proud of!
Jamie's role broadly entails the recruitment of all candidates for Distilled, from the initial point of contact all the way through to offer presentation and acceptance, which includes the reference checking process.
Reference Checking at Distilled
The recruitment team at Distilled would typically hire around 30-35 employees per year. They conduct at least two references on each successful candidate which means that they are in contact with approximately 60 - 70 referees. Reference checking was conducted manually by the recruitment team at Distilled by calling each reference.
"Before we introduced Refapp, this was a largely manual process which meant that a lot of time was spent coordinating and conducting reference checks. A reference check call would typically take around 30-45 minutes to complete but there was generally a lot of back and forth with referees beforehand in order to find suitable times which ultimately prolonged the process."
Keeping it simple
With a company value of "Simplify" at heart, Distilled sought a solution that would streamline their reference checking and overall hiring process. Refapp's integration with Recruitee(An Applicant Tracking System used by Distilled) made that even easier for them and allowed them to have everything in one place.
"At Distilled, one of our company values is to Simplify and, after speaking with David, we felt that Refapp allowed us to do this by automating aspects of our reference checking and ultimately helping to create a more efficient hiring and onboarding process. It also integrates with our ATS which makes it just that much more seamless to use.
High Response Rate & Automation Features
Jamie mentions that the high response rate was a pleasant surprise when his team started using Refapp initially. Initially, when having to manually conduct references in the past, a lot of back and forth was involved when attempting to arrange a call with a reference.
"I think perhaps the biggest surprise about using Refapp is that the response rate from referees is so high. We had initially thought that we may need to manually follow up with referees to remind them to complete the reference checks but Refapp's automated email/SMS feature as well as its automated follow-ups has proven to be really effective"
The Impact on the Recruitment Process
Since adopting Refapp as their standard method of reference checking, Jamie estimates that they have reduced the time spent on reference checks by at least 75%, allowing him and his team to allocate more time to sourcing talent and enhancing the candidate experience
""A rough estimate would be that we were spending anywhere between 70-100 hours just completing reference checks whereas since we've introduced Refapp I can safely say that we're probably spending a quarter of the time we did previously.""
Conclusion
Distilled's journey with Refapp is a testament to the power of automation in simplifying recruitment processes. By integrating Refapp into their process, they streamlined reference checking and improved overall hiring efficiency.
If you're a recruiter seeking ways to simplify and enhance your recruitment efforts, the success story of Distilled highlights the potential for more efficient and effective practices.
Embracing automation can not only save time but also empower your team to focus on the core aspects of talent acquisition and delivering an exceptional candidate experience.
We at Refapp are delighted to see the success of our solution with our valued customer, Distilled and we are excited to continue to provide them with an exceptional service. We wish Jamie and his team at Distilled continued success into the future.
Would you like to know more about digital reference checking and how it can help you make better recruitment decisions? Get in touch!